Goodstart works with many groups in the early learning sector and beyond to shine the spotlight on the importance of quality education in a child's first five years, and continues to lobby governments to improve childcare affordability and accessibility through greater investment. In the series of stories on our friends in the sector, we continue our chat with Early Childhood Australia (ECA) CEO Samantha Page. Read the first story
here
.
Last week ECA CEO Sam Page highlighted that governments taking inadequate action could be a barrier to achieving better learning and developmental outcomes for children from birth to five years.
She said they believed they were addressing the issues, but there was so much left to be done.
"If unintended consequences of government policies result in parents being unable to afford to send their children to early learning, then our participation rates will go backwards," Ms Page said.
New government data
shows that while childcare fees rose by an annual average of 5.4 per cent per annum since 2013, families' out of pocket rose by 8.3 per cent per annum because government subsidies have not kept up.
Ms Page said to understand the cost to benefit ratio of investment in early learning, we could turn to Nobel Laureate economist James Heckman.
"His US study calculated there is a seven to 10 per cent per year return on investment for children who receive pre-school education," she said.
"His compelling graph shows that investing in early learning provides the highest rate of return. It is more effective and efficient than investing in human capital later in life."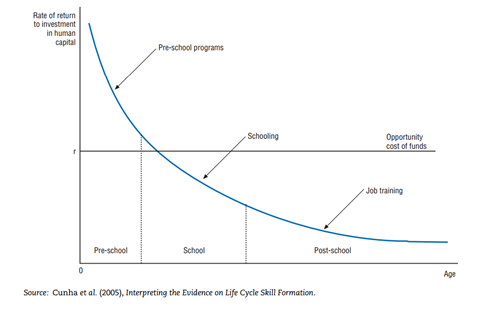 Australia spends less on childcare than New Zealand – spending 0.7 per cent of GDP on direct government funding of childcare ore preschool education.
When rebates are factored in, Australia's spending approaches 1 per cent of GDP, this does not compare well with Scandinavian countries such as Denmark, Iceland and Sweden where spending is between 1.6 to 2 per cent of their GDP – the highest investment in childcare and pre-primary education in the world.
She said all Australians stood to benefit from greater government investment.
"Improved outcomes for children flow on to huge economic and social benefits for all of us," she said.
"Children who get a good start to their education can develop the expertise and skills to become productive members of the workforce and contribute to society."
A
PWC report
released in 2015 found that the benefits to GDP from children participating in quality early learning stood at more than $10 billion cumulative to 2050. Additionally, the benefits of increased participation of vulnerable children are estimated to be $13.3 billion cumulative to 2050.
The
Early Learning Everyone Benefits
campaign seeks to increase public awareness and understanding of the benefits of investing in early learning for Australia's future prosperity and secure political commitment to increase access to quality programs that amplify children's development.
The campaign wants all Australian children to have access to at least two days of quality early learning. In particular, the campaign wants to see 100 per cent of four year olds (currently 99 per cent) attending early learning for 15 hours per week or more, and increase participation of three year olds from 66 per cent to 90 per cent by 2020.
Read more about the economic and community benefits of investing in early childhood education
here
.
Next week, Ms Page will discuss early learning and Australia's education performance, including three and four year old participation rates in early learning.