Did you know that Outdoor Classroom Day is today? (November 1)
Outdoor Classroom Day is a global campaign to celebrate and inspire outdoor learning and play to improve children's health, engage them in learning, and lead to a greater connection to nature.
In fact, the current
guidelines
for children aged three to five years old recommend that they should spend at least 180 minutes (three hours) per day doing a variety of physical activities of which 60 minutes should be energetic play such as running, jumping and throwing.
Currently, the proportion of children aged 2-5 years who meet the physical activity guidelines decrease as age increase. 83 per cent of two years olds meet the guideline; however, this decreases to just 1 in 10 by the age of five.
The 3-5 Guide
At Goodstart Early Learning, teachers and educators are armed with the resources to enhance learning through the outdoors – regardless of whether the centre is in a rural or urban area.
Goodstart Early Learning research shows outdoor environments that include natural spaces can contribute to more complex and imaginative child-led inquiry-based play.
The Goodstart Practice Guide for Early Childhood Teachers Working With Children Aged 3-5 Years offers many opportunities for teachers and parents to consider the outdoor environment.
"Often as teachers and educators we are drawn to only consider teaching and learning in the indoor environment but the outdoors is equally as important," NSW ECT program manager Katey De Gioia said.
The 3-5 Guide encourages teachers to look the natural features of their surrounding environments – flat, smooth surfaces, climbable features, materials such as dirt sand and water.
Key learnings
The 3-5 Guide states that when adults design environments, they often impose regularities that are not sufficiently challenging for children – for example, an adult might place stepping stones at exact spaces, while children tend to vary the spacing.
The guide suggests seeking out environmental features that promote movement play, such as:
Features for climbing and stepping such as tree branches, tree stumps for climbing, stones for balancing, jumping, walking;
Hills/mounds for rolling and running. Support different experiences for different ages and abilities.
Differing surfaces, levels and textures to stimulate and support balance and co-ordination.
Loose moveable natural elements such as rocks, branches and pine cones. These can all be used for different types of play including fine motor and imaginative/creative play.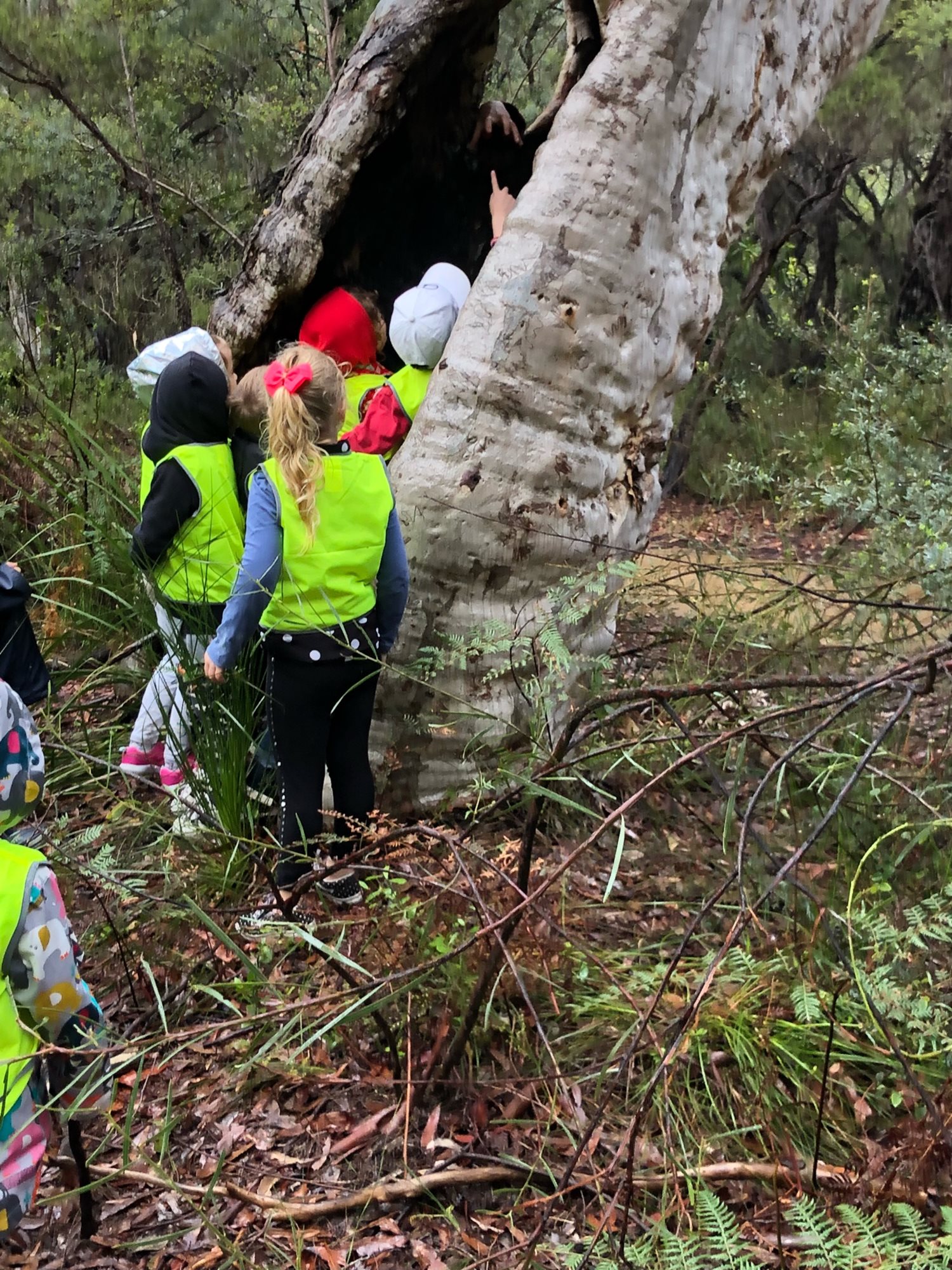 Theory in practice
At Goodstart Kincumber, assistant director Sharon Thomas said a visit to Kincumber Mountain had come about after discussions about the 3-5 Guide.
"It's important to know when to stand back and allow the space to guide, sustain and extend the children's learning," Ms Thomas said. "By not taking any resources our decision encouraged the children to initiate their own investigations and experience positive risk taking."
She said the 3-5 Guide gave the team the confidence to allow the environment to become the third teacher. They enlisted the help of Tim from Girri Girra – a coastal Indigenous mob who live on Darkinjung and Guiringai land on the NSW coast.
"With Tim's help, we decided to embark on a bush walk (to Kimcumba mountain). Tim explained to the children the special connection he has with the earth, asking the children to respect nature as we do our mothers," Ms Thomas said.
"The children were all in their element, engaging in positive risk-taking play, exploring and jumping in puddles, without any additional resources."