Goodstart works with many groups in the early learning sector and beyond to shine the spotlight on the importance of quality education in a child's first five years and continue to push governments to improve childcare affordability and accessibility through greater investment. Here we continue our chat with The Parenthood CEO Jo Briskey. Read the first story here
The Parenthood is a driving force behind the debate on childcare affordability and accessibility, magnifying the voices of tens of thousands of concerned parents across the nation.
Research demonstrates that quality early learning in a child's first five years delivers positive short and long-term learning and development outcomes and that children attending early learning are one third less likely to start school behind.
The not-for-profit digital campaign organisation's CEO Jo Briskey joined us last week to discuss life as a mother of a two-year-old and work she undertakes to seek greater government investment for early learning and care.
We chat to Ms Briskey again this week, delving deeper into topic of childcare and how The Parenthood is seeking to address it with government.
Jo, firstly, can you tell us about your experience seeking childcare for your daughter?
My experience reflects my drive and passion today representing Australian parents at The Parenthood. Like many Australian parents and carers, I started my search for childcare availability during my pregnancy but despite the early start it wasn't until my daughter Gwenevieve (Gweny, pictured with Jo below) was eight months that I managed to get one day a week at a centre.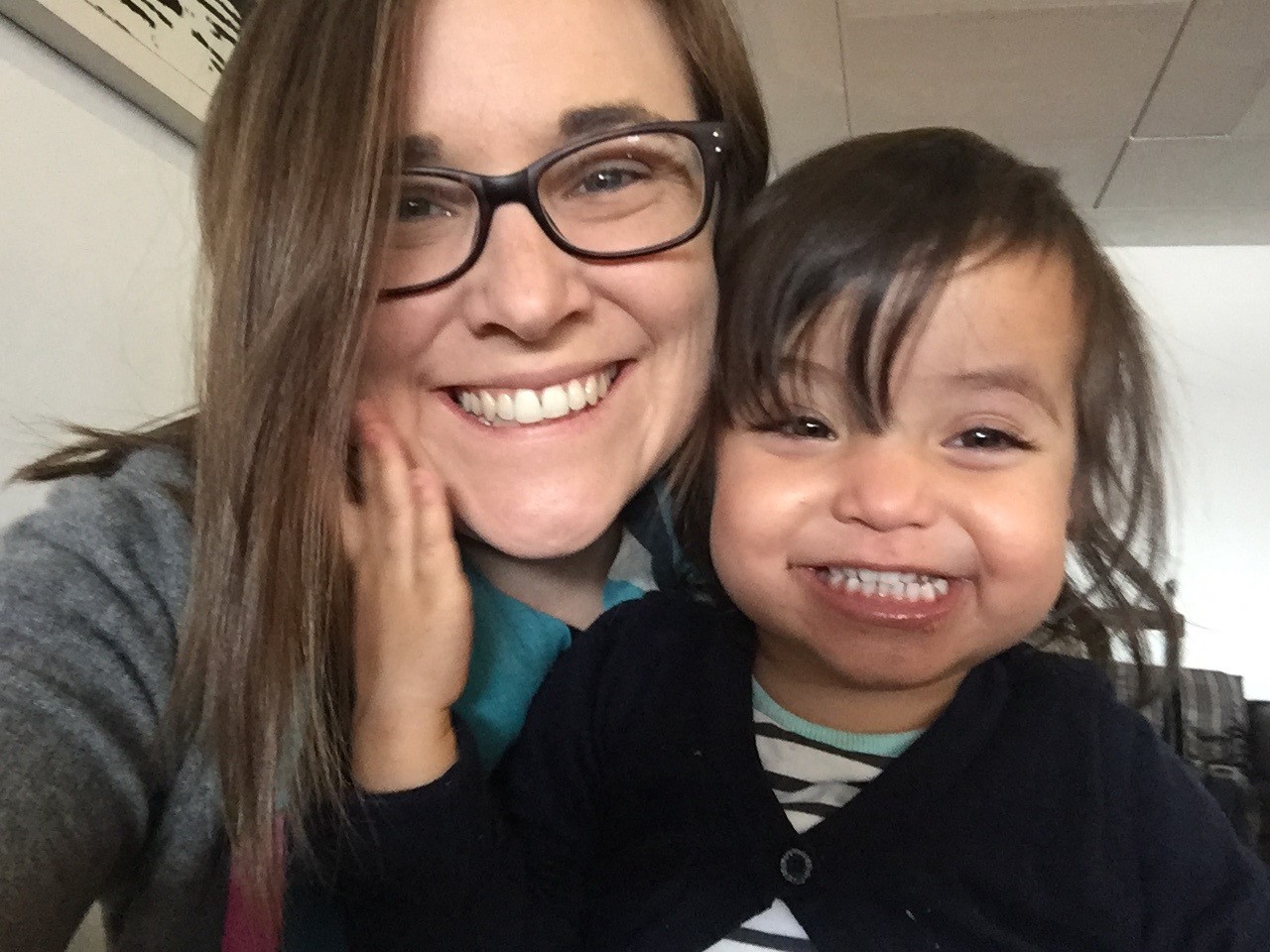 One day eventually become two and now thankfully we have three days a week. Gweny absolutely loves her centre. The joy on her face every morning when we drop her off means so much and we're incredibly thankful for the amazing educators who not only make each day fun, they help her learn new and different things every day.
I think the incredible skill and knowledge of Gweny's educators and all early childhood educators is sadly not as recognised and valued as much as it should be by government and our broader society.
Greater recognition of the early childhood profession is another reason why I'm so passionate about the advocacy work of The Parenthood and the work we do in collaboration with others in the sector to improve our early learning and care system.
What do the 48,000 Australian parents that you represent want from childcare?
The message from parents is clear – they value the quality of the early learning and care
their children receive, they recognise the benefits this brings to their children's learning and
development and they want and need a more affordable, accessible and flexible system.
Parents are struggling with the cost of early learning and care. For many parents the cost
of childcare is the second largest bill to the household budget after the mortgage. The affordability and availability of childcare means many parents are not able to secure the early learning and care they want for their kids and what they need for both mum and dad to return to work or work more.
Last week you shared that our society's view of childcare is rapidly changing, can you expand on this?
Childcare isn't about someone simply looking after your child for the day so you can work or do other things, childcare is about early learning. In Australia, parents that I represent understand and value quality early learning – we need to make sure our politicians as well as our wider society understand this too.
Why should there be greater investment into childcare in Australia?
Beyond improving childcare affordability and accessibility, improving children's learning and development outcomes is arguably where government gets the best bang for buck on the billions it spends on childcare each year.
Price Waterhouse Coopers (PwC) in their
Putting a value on early childhood education and care in Australia report
revealed that with an increase in the number of children participating in early learning and care the GDP would grow by $10 billion by 2050. Importantly if more children from disadvantaged backgrounds could access early learning the GDP would grow another $13.3 billion.
Most other countries across the developed world are investing large sums of money in
early childhood education and care (ECEC) because of the long term social and economic
benefits of quality early learning, not just for workforce participation.
Countries, like Britain, New Zealand, Canada, Norway and Germany are all making
significant investments to ensure their children can access free or close to free early
learning. They do this to increase the skills and education of their populations.
What changes are you seeking with the Government's $3.1 billion childcare package?
The Parenthood together with a range of sector organisations submissions to the Senate Inquiry outlining recommended changes.
One change our parents want to see is that every child, irrespective of parents' work circumstances receives access to at least two days (24 hours) of subsidised childcare a week. This maintains continuous access to early learning and care for all children, especially those from vulnerable or disadvantaged backgrounds. It also provides certainty for parents who, even if they experience a sudden or significant change in their working or earning capacity, will know they will always be able to count on access to two full days of subsidised childcare.
You're passionate about working parents, having the choice to return to work. Can you explain the relationship between childcare affordability and returning to work?
Alongside the value of early learning for our kids, affordable childcare also has a huge impact on the workforce participation of women – helping more mums get back to work and work more when they want to.
Unfortunately, still today mums are more likely than dads to be the ones organising their lives around the care of children and this is especially true when the kids are under five years old.
So for many women having children is actually a limiting factor for when they want/need to be in the paid workforce and a logical way to address this is access to affordable childcare.
Because the reality is for many families the cost of childcare
is
the cost of mum going back to work and current costs are preventing many from working more or even returning to work. The experience for thousands of women is a sense of working for less or in some cases losing money because of how much childcare costs – so of course many ask why bother?
Now of course this
shouldn't
just
be a mum's issue, of course it's a joint responsibility for both parents to contribute to the care of their kids. And I recognise the argument that by campaigning for affordable childcare as a woman's issue seemingly perpetuates the notion that child rearing is largely a woman's job.
But as a society we're just not there yet. We're not even close to changing the norms around gender specific roles and what it means to be a working mum and what it means to be a working dad. So this is why we must remain, for the time being, steadfast in championing affordable childcare as a significant woman's issue.
Plus, government continues to tell us how important increasing the workforce participation rate of women is to our national economy – so highlighting the impact affordable childcare has on mums returning to paid work or being able to work more is a clear campaign strategy.
The language around childcare being a woman's issue shouldn't change – rather the term 'childcare' itself needs to change.
When we replace 'childcare' with 'early learning and care' we shift the whole argument. No longer is it about government needing to fund the care of children so mums and dads can work – rather it becomes government investing in education so our kids can get the best start in life.
Once 'childcare' is seen as early learning and it's recognised that all kids should benefit, it will become more affordable, accessible and
acceptable
and that's when we can start to change and challenge the notion child care is only a woman's issue.