Since Goodstart's early days, NSW State Manager Lisa Chiovo has helped drive the organisation's vision for every child to have the best possible start in life, and it's paid off for children, families, and educators alike.

As I celebrate my 15-year anniversary at Goodstart I have taken a moment to reflect upon my journey and why I am still just as passionate today about my role as I was when I first started.
Over my career at Goodstart I have been involved in upskilling educators through the Goodstart Institute of Early Learning. From there I moved into an Area Manager role and progressed to Operations Manager for NSW and have recently been appointed the State Manager, NSW North role.
For me, the highlight of my career with Goodstart has been the people I work with. I have been so privileged to work with so many passionate people who are driven in creating positive outcomes for children and improving the experience for families in all our communities across the state. I'm always moved by how our educators go above and beyond to support each child and their family. When children and their families come into our centres, we treat them like family, not only supporting them on their early learning journey but supporting the child and the whole family in a holistic way.
Goodstart has the resources to support children, families and educators, and we do so much to include children who are typically excluded from other centres. Just last week I was visiting a centre that is supporting a child with a medical condition. The family drives 40 minutes to bring their child to our centre because they're have a fantastic relationship with our educators and are so comfortable with the support our team provide. It's this kind of work that I'm most proud of.
As an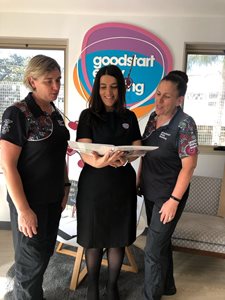 employer Goodstart encourages positive key educator relationships with children and families. It's through these strong bonds educators are able to connect with the child and family authentically and reciprocally to influence learning and wellbeing outcomes. Seeing first hand the benefits this has to children's learning and wellbeing and to a team's morale and cohesiveness is so rewarding.
I am also proud of the work our team has achieved in the state, including raising the profile of safety and compliance. By implementing a state safety committee we are able to support a culture of safety for both our big and little people. It's a really great feeling to see these initiatives being put into practice across the organisation.

I feel honoured and fortunate to represent centre teams as the State Manager and look forward to continuing to support them to have a rewarding and long career at Goodstart as they build on the vision for every child to have the best possible start in life.
If you'd like to find out more about the roles available or what it's like to work at Goodstart visit our careers page.