Today and every day, we take our hats off to teachers.
To mark World Teachers' Day, that Australia celebrates on the last Friday of October, we interviewed Desislava Garcheva, an Early Childhood Teacher at Goodstart Early Learning McDowall, QLD.
Dessie, as she is known to friends and family, has an illustrious background in linguistics and marketing. But after starting a family, she was inspired to switch industries. Here, she tells us all about her inspiring career change.
Hi Dessie! Could you tell me a bit about your professional background and how you got into early learning or teaching?
"I go by Dessie, but the centre children and my colleagues started calling me Daisy. It just stuck, and I've grown to love it.
"My bachelor's degree is from my home country – Bulgaria. I studied English Philology, which made me an interpreter and an English teacher to students who speak English as an additional language or dialect (EAL/D).
"While I was studying in Bulgaria, I taught English to small groups of children in a language centre. After I graduated, I started working as a copywriter at a large international company. In time, I joined their events and marketing team. I also obtained a master's degree in special events and PR.
"After this, I joined an advertising agency and stayed for more than a decade. It was dynamic and fun. I met amazing people, however, at some point, I felt like something was missing.
"Then, when I had my two children, I started reading more about early childhood development and learning including the different strategies and benefits. Like many mothers, I was inspired to apply what I was discovering to my children's early learning.
"Little by little, I realised what I wanted to do was to make a positive impact on children. And so, I decided to go back to teaching."
Could you please share a bit about your journey to moving to Australia? What drove the decision and how did you go about it?
"My husband and I made the decision to move our family to Australia, and my research showed that Australia has some of the best universities to study teaching.
"At the beginning of my research, I was on the fence if I wanted to go for early years or primary, but I realised I enjoy the play and inquiry-based, child-centred learning philosophy of the early learning sector.
"So, I decided to apply for a Master of Teaching Early Childhood at QUT. I ended up receiving a Merit scholarship. All of these factors influenced our decision to go on this journey. Now, I continue building on my teaching skills."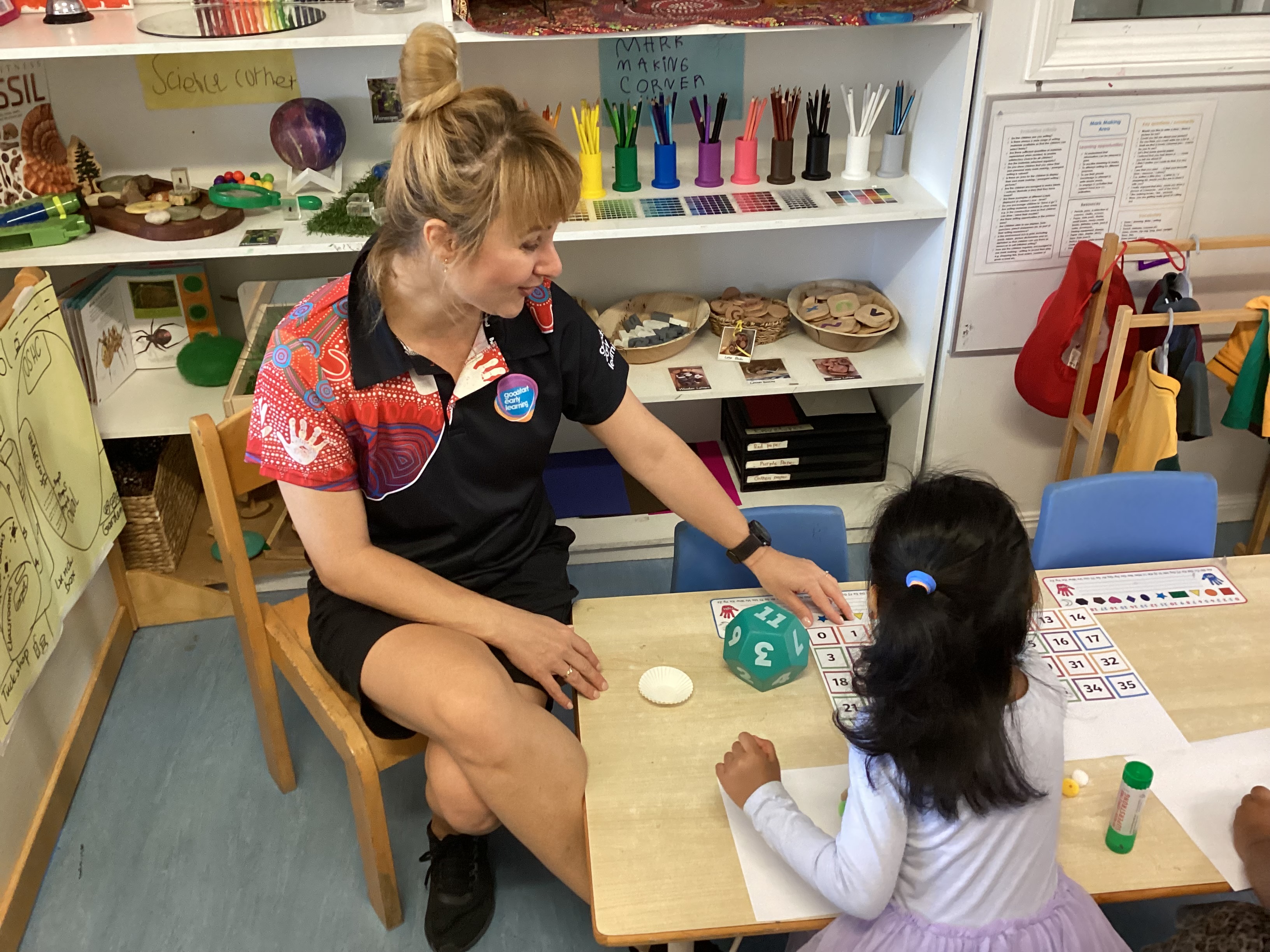 Early Childhood Teacher Daisy and a student at her centre in McDowall
How did you end up teaching at Goodstart, and how long have you been with the organisation?
"I decided I wanted to join Goodstart while I was still at university, after a meeting with them.
"I learned more about the core values of the organisation as well as the fact they offer a teacher registration program and regular teacher conferences.
"More importantly, as I fiercely trust my instincts, I also felt like I could see what the culture of this place is, and it aligned with what I want my workplace to feel like: supportive, professional, and a place that puts people first – in this case, the children."
How has it been for you since joining the early learning sector as an early childhood teacher at Goodstart?
"I appreciate that Goodstart supports teachers with regular professional development sessions and teacher conferences. The teacher registration support was so helpful, as well as my lovely mentor, both of which were offered by Goodstart.
"So far, I've been lucky and I'm thankful to work with beautiful people and professionals at my centre. This is even more important because, as we know, this is not an easy profession. So having the right people around you can make a world of difference."
Do you ever teach your native language or share your culture at work? As there are many languages in the ELLA program in centres.
"Coming from another country I do bring with me a variety of different stories, songs and celebrations inspired by Bulgarian folklore, and I embed them in the early learning at my centre.
"We put on clothes with traditional Bulgarian embroidery and learned how to do traditional Bulgarian horo dancing. This is when the children put their hands together and make repetitive step patterns. You can imagine the excitement and fun we all had!
"We made 'martenitsa' – a small ornament (brooch or bracelet) made of cotton yarn in white and red which is to be tied around the wrist for health and good luck. In Bulgaria, we use the Cyrillic alphabet, so children are quite amazed when they see some of the letters.
"Other colleagues share their culture too, and children are keen to take part, explore, enjoy and learn to interact positively with aspects of different cultures."
What are some of your favourite things about your teaching role?
"I've made quite a switch in my career and so far, I find my marketing background super useful for my role. I love how some of the skill sets are transferable between these professions.
"My existing skills help me with preparing activities and working with budgets for the kindergarten funding, for example, documenting children's learning, planning and decorating for events, and with people skills, as I would hope.
"I love supporting children to feel a sense of belonging to their environment and be empowered and confident, as well as respectful learners, explorers and friends.
"It is inspiring for me to find a way for each child as an individual, to be supported with what they can benefit from and develop by being challenged at their level.
"As a teacher and because of my background, I'm quite motivated to come up with strategies and activities and extend children's interest to support EAL/D learners to acquire English. As well as for all learners to develop their early literacy through play-based learning."
Love the sound of teaching in early learning? Explore teacher careers at Goodstart.