Early childhood educator Chloe Stephan has just returned from a trip to Fiji more inspired than ever after spending time visiting a remote school village in the town of Togalevu Suva.
It was a love for working with children and the desire to make a difference to young lives that led to her visit to the village school, as well as a curiosity to see how early learning and care differs in another part of the world.
"Watching children grow and develop into little people and being a part of that is extremely rewarding," Miss Stephan said.
"When my partner and I were planning a holiday to Fiji, I thought it would be a wonderful opportunity to visit a school village while I was there to see their learning environment and to experience how different it is to the way early learning is delivered at Goodstart and in Australia," she said.
With the support of her centre,
Goodstart Bellbird Park
, Miss Stephan organised a collection drive so she could take supplies with her. Families and her fellow educators generously donated and she was able to take an overflowing box of stationery, books, sleepwear and other goodies with her, much to the delight of the Fijian children.
"It was so touching, when I walked into the school with the presents, the teacher Koleta began to cry as she was so overwhelmed and very grateful," she said.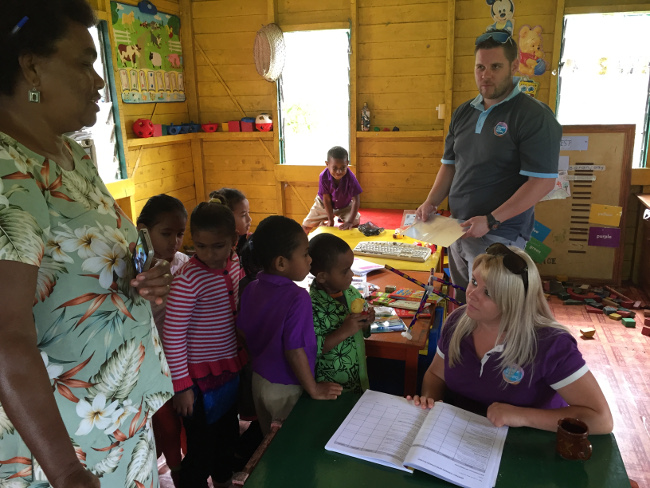 "It was eye-opening for me to see how little they have but at the same time how much they appreciate what they do have. The children were so lovely and friendly and appreciated us just for visiting them even before we shared our gifts with them."
In the brief time she was there, Ms Stephan observed many differences in the way early learning and care is approached in Fiji.
"Ratios are really different to Australia, they have one teacher to 20 children, and the opportunities Goodstart offer our children and educators in regards to resources and environments are also so different, we have so much while they have so little," she said.
"In Australia, our children have beautiful indoor and outdoor spaces where as they have limited resources and don't have the same dedicated play environments we have.
"It definitely made me reflect as an educator how important it is to be that positive person in a child's life. It doesn't always come down to what resources we have but the relationship we have with each child, and how we influence their learning by what we can offer them with what we do have."
It's a timely reflection for Miss Stephen with the national Early Childhood Educator's Day just around the corner on Wednesday, September 7.
Miss Stephen said the most rewarding aspect of being an early childhood educator was being a part of each child's learning and development and being a positive influence and role model to them.
"If a child in my care can grow to be a confident learner and be confident within themselves then I know that I am doing what I am supposed to do in my role as an educator. It is also rewarding to build positive relationships with families and for them to feel confident in me to be the one to teach their child," she said.
Children from Goodstart Bellbird Park and children from the Fijian village have now become pen pals. For Miss Stephen and her team, it's all about continuing to build a close relationship with those less fortunate, and teaching children the value of friendship while opening their eyes to the wider world they live in.