Flexibility for the children, their families and the employees
is
just one reason why Annie John loves her job as an early learning teacher with Goodstart. She explains in her own words why a career change to early learning education has been such a great move.
I came to Australia to study Public Health at The University of Western Australia, and during my
uni
holidays I started working at the UWA Early Learning Centre. I had no background in childcare, but after having had the opportunity to
work with children of different
age groups, I fell in love with it.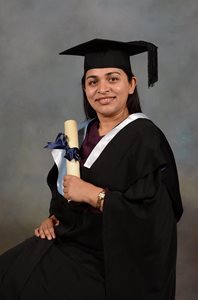 It feels like you're at home – gardening, cooking and doing things you enjoy when w
orking with young children, but you are using these opportunities to teach them about language, science and maths.
I decided on a career change right away and started lookin
g into qualifications. I applied to Edith Cowan University, completed my Graduate
Diploma in Education, and retrained to become a teacher
specialising
in early childhood education.
Now, I'm
a
full-time
Teacher
at Goodstart and just love it.
What's really touched me is how different it is to my early years when I was a child. It's child-
centred
here, rather than teacher-
centred
. Instead of someone making the decision for the child, the child makes it themselves.
Children
have lots
of choices, and
we have more freedom and flexibility around the curriculum than perhaps school-based teachers.
Learning here is
very play-based and hands-on
.
When I was a child, it was always about the blackboard and chalk, and when we were learning fractions, I never got it. The way we teach here is very
connected,
visual
and immersive
; the children can see things, feel them, touch them, and learn with their senses.
What I also love about early learning
centres
, as opposed to kindergarten at school, is that this philosophy of flexibility is also extended to the family. We accommodate what's going on for them. Here, we understand and relate to families if they're going through changes.
I get to have a good work-life balance as well. I'm working five days a week, but there is always time to finish my work while I'm at work, and I get time for my own personal development.
Then I get to go home and enjoy my family life.
I'm so glad I made the career change – it's been a great choice. I feel like
I'm learning alongside the
children
all the time.
If you'd like to find out more about the roles available or what it's like to work at Goodstart visit our careers page.