Queensland's Kin Kora is a long way from the Philippines, as Angelica Torres knows only too well.
The Goodstart Early Learning assistant educator has been at the Kin Kora centre for just two months, and in Queensland for four months, and is still settling in.
"But I am loving being here," Ms Torres said. "I love being an educator and spending time with the children and the welcome I have had at the centre has been lovely."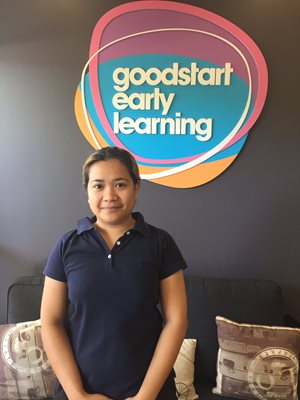 Ms Torres arrived in Australia with her husband, who works at Rio Tinto, in September 2015, leaving behind a job as a petrol station cashier.
She signed up for the Adult Migrant English Program at CQUniversity and says while she could speak a little bit of English, the Australian accent was difficult to master.
"The accent is very different to the English accent so I've had a few problems with that," she laughs.
She was then selected into a Skilling Queenslanders for Work Certificate in Childcare at CQUniversity, and completed a certificate in childcare.
"I'm really enjoying being in Australia even though it's pretty different of where I've come from," Ms Torres said.
"But I'm getting used to it and working in childcare is my dream job."