One child's interest in animals has inspired singing, dancing, building, mask making, library lessons and even a live chat with Taronga Zoo for the children at Goodstart Brookvale.
The four-year-old boy loves talking about animals, bringing in books to share and passing on interesting facts and figures about Sydney's Taronga Zoo.
As part of the centre's recent Australia Day celebrations, the children learned about Australian native animals.
Educator Suja Shanker said the interest shown by the children when singing and dancing to songs about animals inspired a mask making activity to wear during the performances.
"The enthusiasm shown by the children when creating their masks and then wearing them to dance and sing was amazing to watch. We moved and grooved like kangaroos, koalas, snakes and emu," Mrs Shanker said.
"We then brainstormed together and decided to build our own zoo.
"We talked about what we needed for the zoo and the children said, 'animals', 'trees', 'grass' and 'water'. The children helped to put together the zoo and have brought in plastic animals from home.
"One child spends most of his day at the zoo, taking care of the animals and tidying up, which is just beautiful to watch."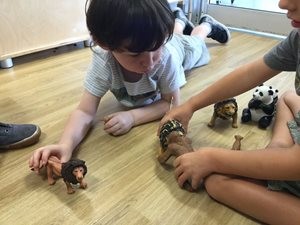 The children headed off on an excursion to the local library where they learned how to find books about nature and animals.
Each child will now choose their favourite animal to research with the help of their educator, the results of which will be shared with families on Storypark.
The animal focus has led to a real interest in conservation amongst the children.
"We built a tree on the wall from paper and we will be putting up pictures the impact of deforestation around it. Children can sit under the tree and read books on deforestation."
Parents are also supporting the children's learning outside the centre, with one mother setting up a zoo for her two boys who have brought their new-found interest in animals home with them.
In the coming weeks the children will be participate in a live chat with the animal conservation department at Taronga Zoo.