Boosting hand-eye coordination and gross motor skills is the aim of the Billy's Buddies program, which is now offered in more than 40 Goodstart Early Learning centres.
The non-contact rugby league program is offered as an extra curriculum activity in our centres and in 2016, 270 children from Goodstart across Queensland participated in the program.
This year, there are already 41 centres signed up with the program with 172 children registered. Given the growing popularity of the program, which is designed for children aged two to six years, there are likely to be many more centres to come on-board again this year.
Billy's Buddies, created and supervised by Melbourne Storm, Queensland Maroons and Australian Fullback Billy Slater, aims to teach children hand-eye coordination and gross motor skills as well as social interaction with their peers. Fully qualified coaches teach children basic ball skills in a safe, non-contact environment.
Former coach and Billy's Buddies operations manager Alex Herrmann said feedback from centres, children and families has been positive and encouraging.
"Our team of dedicated coaches, including Billy Slater, are delighted Goodstart has embraced the Billy's Buddies program. We've had a wonderful response from all the centres who have been involved and we can see first-hand the positive impact the program has on children," Ms Herrmann said.
"Since our launch in early 2016, I had the amazing job of being a Billy's Buddies coach where I delivered sessions at many early learning and childcare centres throughout Queensland, including Goodstart centres. Teaching children new skills through physical activity and watching their confidence grow is an extremely rewarding job," she said.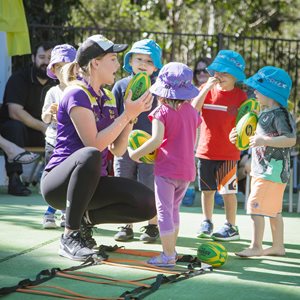 Goodstart Sinnamon Park centre director Tracy Freeman is a proud supporter of the Billy's Buddies program and said her centre used part of their kindergarten funding to deliver the program, making it affordable for families.
"We have been blown away with the quality and professionalism of the Billy's Buddies program, and children and their families absolutely love it. I think that working with a well-known and highly regarded sporting icon such as Billy Slates helps to promote physical activity to give children a strong sense of health and wellbeing," Ms Freeman said.
"It also supports children in their future lifestyle choices. Children gain confidence, team work and skill sets that set them up for life."
The Billy's Buddies program is a great addition to the activities already built into Goodstart programs where physically active play is an important focus.
And for some lucky children and educators, it's also an exciting opportunity for them to meet one of their footy heroes when Billy Slater is in town and has time in his busy schedule to drop into one of the centres to lead one of the sessions.
Families who would like to enquire Billy's Buddies are encouraged to speak with their local centre, or contact Billy's Buddies. For more information, visit
www.billysbuddies.com.au