A new purpose-built early learning centre in North Melbourne aims to help meet the demand for quality early learning spaces in the inner city.
Goodstart Early Learning's new North Melbourne centre, which will open on February 20, is part of a commitment to offering affordable, high-quality childcare for inner city families.
The newly-constructed, architecturally-designed centre has two vibrant outdoor play areas, overlooking Melbourne, five age-based learning spaces, including two nursery rooms, a toddler learning space, pre-kindy and kindergarten.
A large, shaded rooftop playground has natural play spaces for children to explore and features herb and vegetable gardens and viewing points for children to see the world around them.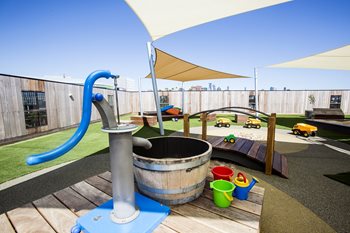 There is also a cubby house, a timber stage for performances and quiet times, stepping stones, a bridge and a water pump and a stream for exploration. Children will also be able to sit in the yarning circle for conversations with peers and carers.
Three Bachelor-qualified teachers will develop and deliver tailored education programs.
New centre director William Shum said North Melbourne would offer state-of-the-art facilities, care and education, with a firm focus on families.
Mr Shum said he loved working with children because of their honesty.
"Children don't have the capacity to not tell the truth 100 per cent of the time and after my previous career I found that really refreshing."
Before joining the world of early learning five years ago, Mr Shum was a supervisor at Crown Casino where he worked with VIPs including high profile tennis players and racing car drivers.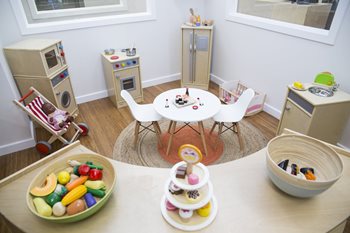 Goodstart Early Learning chief executive officer Julia Davison said the new centre would continue the not-for-profit organisation's commitment to providing affordable high quality early learning.
"Goodstart is committed to enhancing outcomes for children in vulnerable circumstances and will provide priority access to children with additional support needs, children from Aboriginal and Torres Strait Islander backgrounds, and children who speak a language at home other than English," she said.
The new centre will have 100 places, has a convenient drop off and pick up carpark. It is also close to the tram and light rail stops, and the building will also contain a family medical centre and café.