Advancing through these roles requires a combination of formal education, practical experience, and a deep passion for early childhood development. Here are the different types of roles available and qualifications required.
Trainee Educators
If you don't currently have any qualifications and are looking to work while you study, then a Trainee Educator role might be for you! Trainee Educators study their Certificate III in Early Childhood Education, whilst working in a centre under the guidance and mentorship of experienced educators. You learn how to ensure safe, learning rich environments are available for all children.
This role provides invaluable hands-on experience and allows trainees to apply theoretical knowledge to real-life situations - gaining essential skills while studying. Once you have completed your Certificate III, there are opportunities for permanency with an Educator role.
Educator
As an Educator you work directly with children, facilitating their physical, intellectual, emotional, and social development. You implement age-appropriate curriculum, creating engaging learning activities, and fostering a supportive and inclusive environment. Educators observe and assess children's progress, maintain communication with parents, and contribute to the overall operation of the centre.
A strong passion for working with children, patience, and excellent communication skills are vital for success as an Educator. A Certificate III in Early Childhood Education, or equivalent qualification, is required to start your career in this role.
Senior Educator
Senior Educators take on additional responsibilities beyond those of Educators. The role is responsible for curriculum design and implementation, ensuring the very best learning, development, and wellbeing outcomes for children. Senior Educators lead, mentor, and support Educators, ensuring the delivery of high-quality care and education.
Senior Educators hold a Diploma of Early Childhood Education and Care, or equivalent.
Early Childhood Teacher
Teachers in early learning settings bring specialised knowledge and expertise to the classroom. They focus on providing structured educational experiences that align with children's learning, development, and wellbeing outcomes. Teachers plan and implement curriculum based on national frameworks, assess children's progress, and tailor instruction to individual needs. They collaborate with families and work closely with Educators and Senior Educators to create an inclusive and enriching learning environment.
A Bachelor level Teaching degree in Early Childhood Education or a related field is typically required to become a qualified Teacher in an early learning centre.
Educational Leader
The Educational Leader serves as a mentor and instructional coach for educators, supporting their professional development and promoting best practices in teaching and learning. They collaborate with Educators to develop and implement innovative educational strategies, facilitate reflective practice, and promote continuous improvement.
Educational Leaders often possess Diploma or Bachelor level Early Childhood Teaching qualifications, extensive experience in the field, along with a strong understanding of curriculum frameworks and pedagogical theories.
Centre Director
Centre Directors hold leadership positions and are responsible for the overall management and leadership of an early learning centre. They oversee the implementation of policies, ensure compliance with regulatory standards, and manage the centre's budget and resources. Centre Directors lead a team of Educators, Teachers and other support staff, providing guidance, support, and professional development opportunities.
To become a Centre Director, a Diploma or Bachelor degree in Early Childhood Education, along with extensive experience in the field, is often required.
Supporting your Career Growth
Goodstart provides opportunities for individuals passionate about working with young children and who want to make a difference in their education by enabling access to a range of different qualification pathways. Our organisation is firmly committed to fostering a continuous learning and development culture, embracing diversity, and offering growth prospects for our employees. We firmly believe in nurturing your potential, empowering you to thrive, and fostering a career path that holds promising prospects for a bright future. Aligned with Goodstart's core purpose, we dedicate ourselves to enabling all Goodstarters to expand their knowledge and skills through exceptional educational experiences, each and every day.
That is why Goodstart are excited to offer a range of Study Support Programs as you embark on your qualifications journey. Examples of some of the supports on offer include access to scholarships towards study fees, paid placement and study time, study bonus payments, access to online learning communities and professional development resources.
Supporting your Career Development
In addition to supporting your qualification growth, Goodstart offer a suite of Learning Programs designed to support you to build your professional capabilities and support you on your career pathway. Opportunities include leadership development programs specifically designed to support you to move into roles such as Assistant Director, Centre Director or Educational Leader.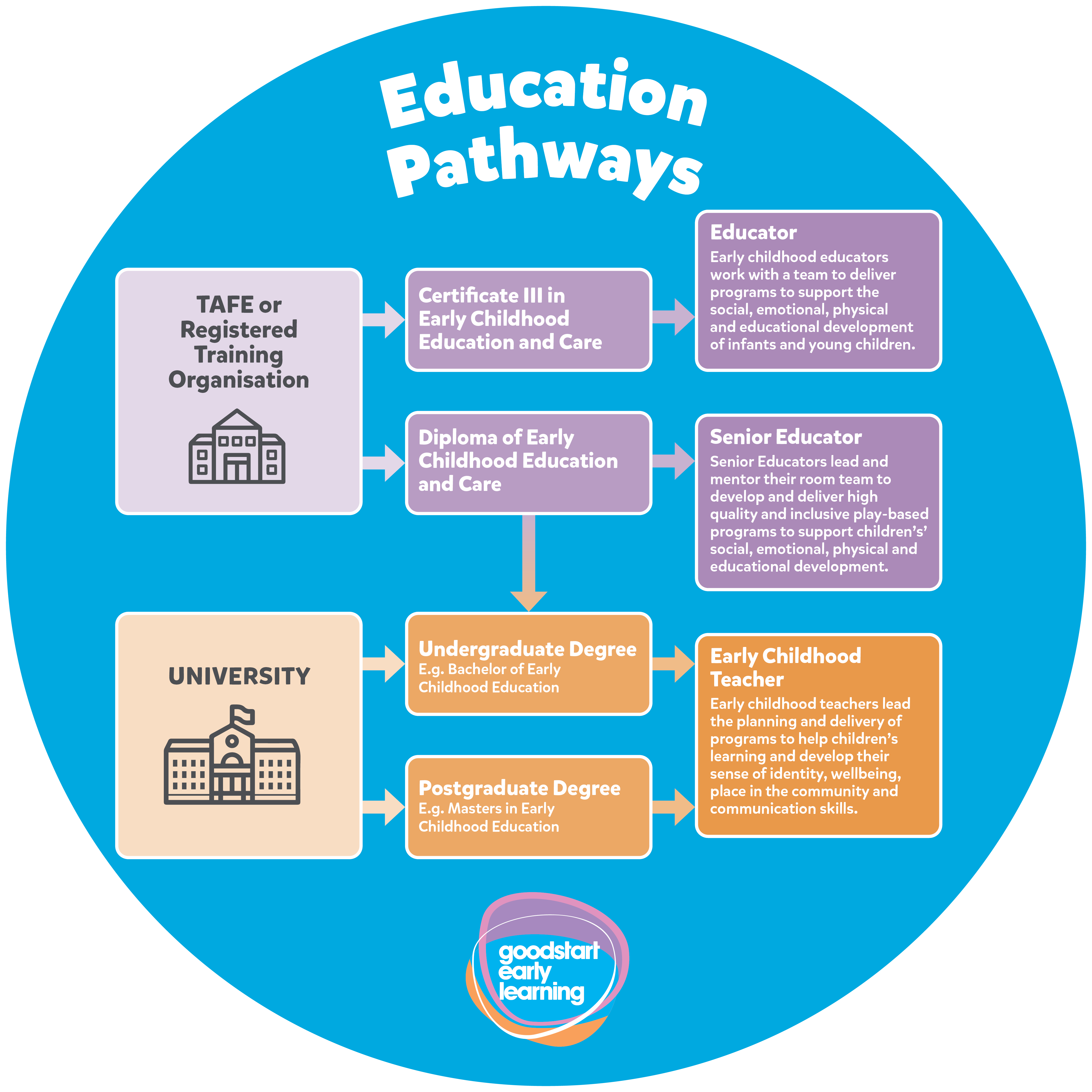 Find a job
Search our vacancies and make Goodstart your next career move
Join our Talent Community
Register your interest and we'll contact you when the right job opportunity comes up.
Register