A two-year journey connecting culture with curriculum has resulted in a unique artistic interpretation of the
Early Years Learning Framework
(EYLF) at
Goodstart Tiwi
.
An artwork, which takes its inspiration from a traditional Aboriginal dot painting, was created by the centre's teacher Jielei Lu with guidance from Rocky Lee of the
Larrakia Nation
, traditional owners of the area in and around Darwin.
It depicts the journey of early education and shows how the various elements are interwoven, providing a local context which centre director Kimmi Tupetagi believes is important.
"Culture is an important part of who I am, and over my career, culture has been the perspective that has allowed me to share and learn about other people," Ms Tupetagi said.
"I learned in New Zealand the value of reciprocal learning through culture and when I arrived in Australia I wanted to support that perspective.
"In New Zealand we support Te Whariki – a woven mat that is used to articulate the early childhood framework there. While living in Darwin I noticed some similarities that might be crossed over to support an Indigenous perspective through the EYLF.
"I did not want this to be a perspective that came just from me, so I began to work with my team around what this might look like for us as a centre."
The project is designed to encourage focus and confidence in the Aboriginal perspective of EYLF among the centre's educators, families and the Tiwi community.
The EYLF describes the principles, practices and outcomes that support young children's learning from birth to five years of age, as well as their transition to school.
It provides broad direction to centres and educators and allows individual childcare services to develop their own interpretation reflective of their community.
After trial and error with different interpretations, the team created the 'learning mat' depicted in the painting.
"We were very fortunate to have Rocky join us as our cultural advisor from Larakia Nation. He provided us with guidance and permission to display our journey," Ms Tupetagi said.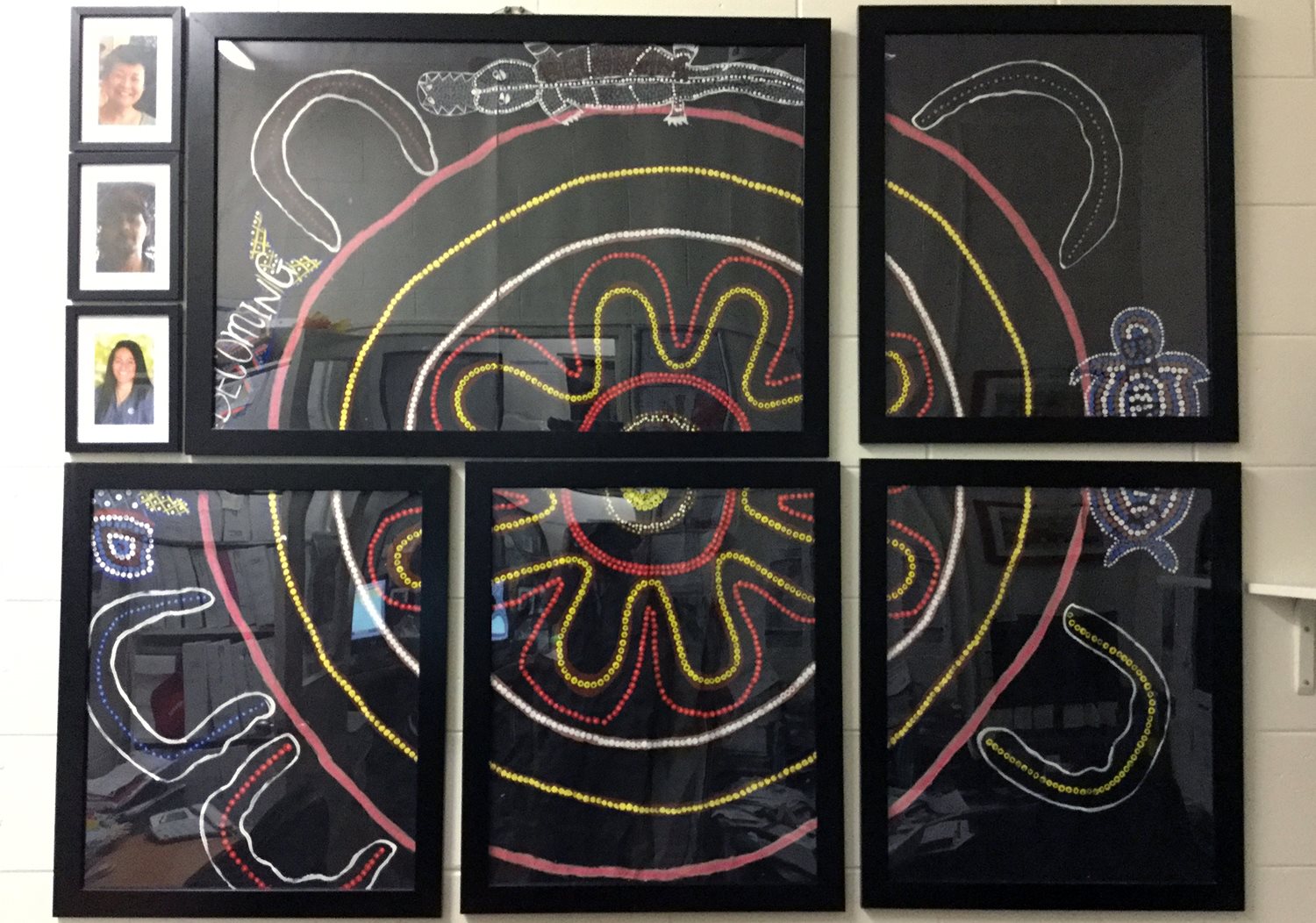 The cultural connection to the centre's curriculum is highlighted through several features of the artwork:
Two circles in the centre representing meeting points for children and staff
The flower represents a strong community
Petals and rings represent the eight key practices and five principles of EYLF
Crocodile, dugong and turtle were chosen as acknowledgement and respect to local Larrakiya Saltwater people
Five symbols represent the five learning outcomes of EYLF
A symbol of a 'person sitting', demonstrating the passion all staff have towards delivering quality education
The artistic representation is just the first stage of the centre bringing their curriculum and community closer together.
"We would like to create a smaller display that can be presented and discussed on the floor by staff and also where the children and families are most present.
"Being able to reflect with a visual cue using an art form instead of using the spoken language – especially since English is often a second language here at Goodstart Tiwi – keeps us all on the same page as a team."
As their cultural journey continues, the centre also intends to make a 'knowledge basket' that will travel through meetings to gather knowledge that is taken back to the centre and shared.
"The basket will be filled by placing it in the middle of a yarning circle, before traveling back to the community and being placed in the middle of another circle.
"The more times the basket travels, the more knowledge that is gained and shared amongst the people."